Homely cosiness in the middle of Nuuk
Nuuk is an exciting city that attracts lots of tourists. Many of them live on Nordbo, because we have good facilities at a reasonable price. Nordbo offers high quality apartments where the whole family can be gathered – and also we offer hostel rooms in high standard of living at a price where everyone can join.
Many tourists appreciate the lovely kitchens of Nordbo's hotel apartments. Here you can decide the menu so that both the cooking and the dinner will be quality time for the whole family.
Nordbo is also the preferred accommodation when there are large family gatherings in Nuuk. We offer large hotel apartments with the possibility of both beds and cots, so the entire family can live together in a home environment.
According to that Nordbo is a popular accommodation when former "Nuummiut" return to see "the old city".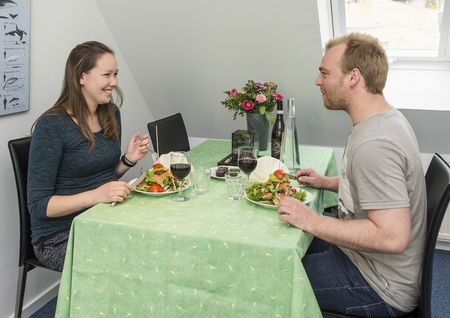 Nordbo's guests are satisfied. Here is a selection of the many nice reviews we've got on TripAdvisor:
---
"Hotel apartment located close to the center. The apartment I was assigned was newly decorated, clean and delicious, with all the equipment, cozy furnishings, well-functioning wifi and good with tv channels. The girls in the office provide top service, kindness and good advice for the stay. "
Danish guest
---
"We stayed here for three nights and everything was as we expected. Simple but clean and comfortable. It was nice to be able to live in an apartment more undisturbed than at an ordinary hotel. Our apartment had a fully equipped kitchen so we could keep our costs of even cooking. We arrived after the office was closed but got the keys in the Air Greenland check-in desk at the airport. I think this is a good alternative to hotels in Nuuk. "
English tourist
---
"It was a nice place, close to everything in Nuuk. The apartment was nice and clean. When I was on my way to the airport, there was no chance of getting a taxi so the owner of the hotel offered me and my friend to take us. That's what I call good service! "
Norwegian guest
---
"Affordable priced apartment comes with (strong signal) free wifi that is essential for the modern traveler and it is worth mentioning that although the buiildings are very close to the city center, you will certainly not be kept awake by any traffic. "
Business traveler
---
"I would definitely stay here again. It is within walking distance to the city center. The rooms are very clean and well kept. I really liked the price of it and I got a full kitchen / living room. (...) I loved the heated floors in the bathroom and the entrance."
English guest